Water Fluoridation and the Effects on Animals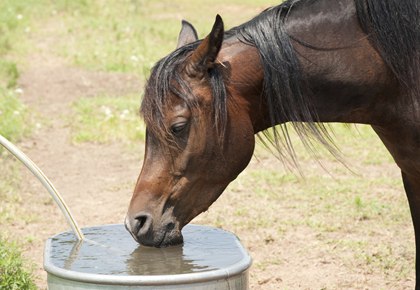 Many people who know what fluoride consumption can do to the body only think of it in the human aspect.  Peer reviewed research has shown that it causes many of the very same ailments in animals.  We ultimately lost 8 horses and 4 dogs to this poison.
Fluoride is a systemic poison that can cause virtually any ailment depending on the individual's inherent weakness.  
For this reason, vets like doctors, have a hard time believing that one substance can cause such widely varying ailments. We witnessed sicknesses in our animals from skeletal ailments such as arthritis and bone deformities to skin rashes, from cancer to changes in personality, from reproductive problems to neurological problems, and the long list goes on.
Fluoride crosses the placental barrier and therefore toxicity starts before birth. We had a foal born that had severe deformities and could not live in the outside world and others that were born with skeletal and maturity problems. We also had many aborted foals.  The amount and severity of ailments grew as time went on from fluoride accumulation.
The mares were the ones who got the sickest the quickest because they were consuming so much of the fluoridated water to produce milk. The foals, that were being gestated while the previous foal was being nursed, were born sicker because of the large amount of fluoridated water being consumed.
The book "The Fluoride Deception," has a reference telling of human babies being born with eye defects caused by a fluoride pesticide called Benlate.  It says "Benlate provided one of the most disastrous and expensive episodes in US corporate history."  Over $1.3 billion in settlements have been paid.  A local Merino sheep rancher, who's sheep drank fluoridated water, had sheep born with eye defects and/or were blind.  We had a foal born without eyes and another who went blind.  
Thyroid problems were rampant in our town in humans and animals.  Iodine deficiency causes many problems in the developing fetus.  Fluoride displaces iodine needed for thyroid and hormone function.  Thyroid function is necessary for becoming pregnant and continuing normal gestation. We have had mares that could either not conceive or could not sustain a pregnancy.  
You need to pay attention to what you and your family are consuming, both foods and beverages. If they are being made with and/or processed in fluoridated water and/or being sprayed with fluoride pesticides they will have high amounts of fluoride. Go to the site, Fluoride In The National Food Supply at: http://www.ars.usda.gov/Services/docs.htm?docid=6312 and see how much fluoride you are consuming without adding the amount in your city water.  
My first hand observations reveals that everyone should avoid fluoride consumption and absorption with every bit of energy they can muster.  I don't want anyone or anything to ever go through the hell that our animals had to endure that was caused by fluoride.  
Editorial and two peer reviewed, scientific, published manuscripts on our horses in the journal FLUORIDE, The Quarterly Journal Of The International Society For Fluoride Research:
http://www.fluorideresearch.org/391/files/3911-2.pdf
http://www.fluorideresearch.org/391/files/3913-10.pdf
http://www.fluorideresearch.org/392/files/39289-94.pdf  
Documentary on our horses at:
http://www.youtube.com/watch?v=7TwwNZyRVOA  
Cathy Justus
FAN National Spokesperson Against Fluoride Poisoning In Animals
Palette J Ranch Quarter Horses
Pagosa Springs, CO